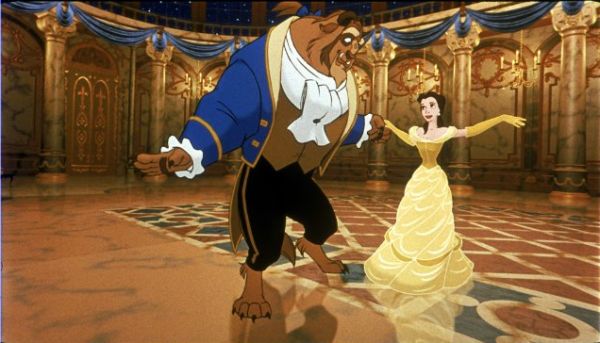 It's been two decades since we first met Disney's Belle and the Beast aka an alternative Prince Charming. Disney were just entering another period of high productivity, kickstarted two years earlier by the success of The Little Mermaid, but were still ages away from their rejuvenating collaboration with Pixar. Now, hot on the paw pads of The Lion King 3D, Beauty and the Beast 3D makes its big twirly ballroom debut.
Beauty and The Beast is a classic for a number of reasons. It's charming, chock full of infectious songs (all written by Alan Menken and Howard Ashman), has really great characters and, unusually for Disney at that time, a loosely feminist central character. Belle, voiced by Paige O'Hara, hated being stuck in a small French village. She wanted adventure in the great wide somewhere; she wanted it more than she could tell. Needless to say, Belle's extremely vague plans for adventure did not include marrying the local self-obsessed poster boy Gaston (Richard White) but he wasn't going to let her reluctance stand in his way, after all, she was the only person in the village as beautiful as him.
Meanwhile, her nutty professor father Maurice is off getting himself nibbled by wolves in a dark and eerie forest, having made his trusty horse Philippe take a very indirect or some might even say wrong, route to the inventions fair. He stumbles upon the gates to a dark castle which just happens to be enchanted and meets a whole host of friendly singing candlesticks (Jerry Orbach), teapots (Angela Lansbury) and tiny chipped teacups (Bradley Pierce) alongside a barely cordial clock (David Ogden Stiers). However, their master, The Beast (Robby Benson), being very much less than cordial, throws him into a cold and miserable cell. Belle comes to rescue him after being alerted, Lassie-style, by the wonderhorse Philippe and takes his place as prisoner. We all know what happens then, namely; "Tale as old as time, song as old as rhyme… Beyoooooooty and the Beast". Gaston, realising he has competition, launches one last violent attempt at capturing Belle's heart.
Undoubtedly, Gaston is the star of the show; his every appearance on screen provokes laughter and he's impossible to hate despite being completely odious. He is closely followed by The Beast, Belle and le singing candlestick Lumiere in contribution to the charm of the film. Not to mention Philippe, whose cutely animated horsey appearance is only matched by Toy Story's Bullseye. The story does become a little slow in places, especially around the 'getting to know and not hate you' montage that Belle and the Beast take part in, but soon gathers its voluminous skirts and heads purposefully for the big finish with fireworks. You really do want those two kids to fall in love and they don't disappoint.
The 3D component, for the most part, does enhance the viewing experience and does not interfere with the enduring magic of this film. In some places the 3D draws attention to itself by making the screen look a little like a pop-up Disney book but succeeds in bringing the old animations to life. The 3D release of Beauty and the Beast is preceded on the screen by a new short of Tangled, which definitely makes the trip to the cinema worthwhile. If you're a fan of the Disney classics you won't want to miss this joyous return to the big screen.