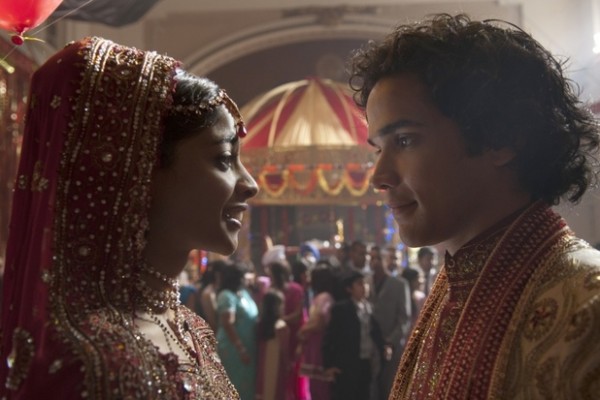 Based on Ayub Khan-Din's play Rafta, All in Good Time marks the return of the East is East author to the  familiar ground of a British Asian family experiencing the clash between first and second generation cultural values.
Son Atul (Reece Richie) has just married Vina (Amara Karan) and the besotted young couple soon come under strain when their honeymoon plans are cancelled and their marriage goes unconsummated as they live with Atul's well meaning parents Eeshwar (Harish Patel) and Lopa (Meera Syal) in their tiny terrace house.
At the recent screening of All in Good Time, director Nigel Cole revealed that the film's release date was pushed back by a year as he was still working on the film. It is a little difficult to know why such a predictable and somewhat lazy script needed such a long gestation period.
At times feeling very much like a play, All in Good Time banks on playing up the 'overweight father' jokes to bring through its comedy element. It is meant to amuse the audience that an overweight man eats a lot, drinks, looks funny when dancing, snores and has loud sex. This already well-used tactic runs out very quickly though Harish Patel's Eeshwar does his best with what he has been given.
Atul finds it difficult to communicate to his father, but he seems to only fully realise and is somehow surprised about what it is like to live with his father once his wife has moved in. Though set in modern Britain the young couple have neglected to consider where they would be living once they had returned from honeymoon and appear unable to cope with the modern world or a relationship that would require consummation.
Atul works at a Bollywood cinema with a collection of stereotypical co-workers but how Vina spends her days is never explained. Neither Atul nor Vina's characters are given much depth beyond Atul's sinking into a near teenage sulk around his father and although Vina plays the constant optimist, the couple soon begin bickering to the point of a break up.
There is also the inexplicable near constant presence of three neighbourhood women who show up in what feels like every scene not contained within the family home. These are the gossiping unsubtle Greek/Indian chorus of the film, meant to be funny but mostly being quite irritating stereotypes of Indian women.
East is East had some interesting things to say about the clash between Asian and English culture. However, All in Good Time does not.
Clearly filmed with a low budget, All in Good Time could have risen above its more humble cinematography with a script that would bring something new to the theme of Hindu culture in Britain. Sadly, with a cast that obviously had more to give, All in Good Time does not muster anything beyond the stereotypical with the bare minimum of comedy moments.

Mairéad has awarded All in Good Time one Torch of Truth.