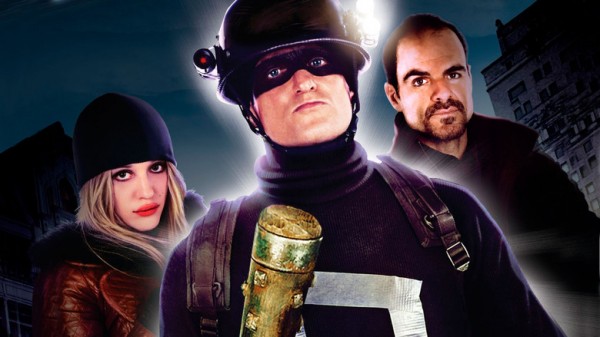 The Avengers may be breaking box office records everywhere you look but, in these super-fuelled times, how about sparing a thought for the heroes who didn't get so much as a plastic lunchbox with their face on it, let alone a parade?
A new wave of caped crusaders have burst onto our screens in the wake of Spider Man, Batman and Iron Man, featuring the lives of Average Joe heroes such as Kick Ass and The Crimson Bolt of Super fame, but Peter Stebbings' Defendor [2009]  has something new to offer. For a start, it centres on a world of drugs and prostitution. The leading man is mentally-challenged. His costume consists primarily of boot polish and duct tape, oh and Woody Harrelson is our crime-fighting hero.
The film begins with Arthur Poppington (aka Defendor – at least in his own mind) in a therapy session where a doctor is assessing his mental status following a violent attack. As the film progresses, we discover what led him to resort to acts of violence, how he became a 'superhero' and why.
No superhero movie is complete without a wise-cracking sidekick, but then again Angel [Kat Dennings]  isn't your typical sidekick; she's a hooker with a coke habit. The friendship between Arthur and Angel and the chemistry between Harrelson and Dennings is undoubtedly what makes this film so endearingly entertaining. If you haven't already heard of Dennings then, where have you been? Granted you may not have a massive girl crush on her in the same way that I do but she has popped up in many a promising part in films such as The 40 Year Old Virgin, Nick and Norah's Infinite Playlist and Thor (she played Natalie Portman's assistant). Certainly an actress to look out for.
In many ways Defendor is the perfect antidote to the Hollywood comic book flicks – a black comedy starring a truly quirky antihero. Between Harrelson's deliciously understated performance and the bold tone it's difficult to understand why this film isn't better remembered. It's a daring turn for everyone involved and the film itself cost only $4million to make. Certainly worth a look when you tire of the glossier, more expensive superheroes who always predictably do the right thing and conquer all.