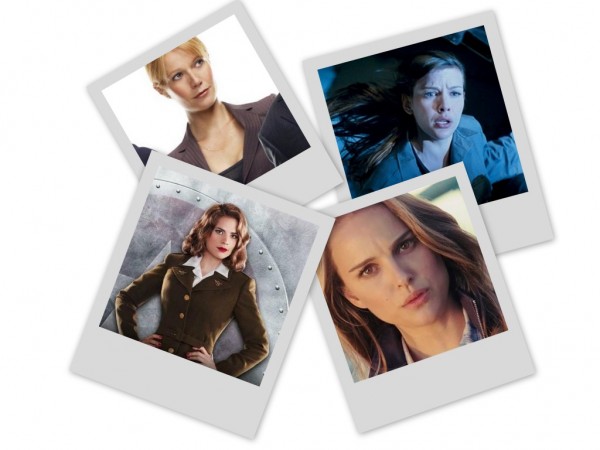 Whilst the boys are out playing with their weapons their female counterparts are doing what all women in the 21 st Century allegedly spend all day doing: talking with gal pals in coffee shops.
Key players
Betty Ross: Cell biology professor, love of the Hulk's life but unfortunately also the daughter of General Ross (enemy of the Hulk).
Style: Function over fashion, muted colours, trousers and shirts.
Pepper Potts : Executive Assistant (don t call her a secretary) to Tony Stark/Iron Man but there is more to their relationship than Boss and Employee.
Style: Serious designer office chic, immaculate hair and impractical shoes (particularly when trying to run away from Stane).
Jane Foster: Astrophysicist and long distance squeeze to demi god Thor. She loves her research and equipment.
Style: Cute motif t-shirts, plaid shirts and jeans
Peggy Carter: American agent in World War II, handy with a gun and military trained, but soft for Captain America.
Style: Vintage military attire, 40s curls and knockout red lippy
The Scene
A coffee shop in the heart of downtown New York. In the distance, a low rumbling noise can be heard as The Avengers prepare for battle, their other halves wait patiently for news. Pepper seems preoccupied with her paperwork for Stark Industries, Jane and Betty bond over a love of sciences and Peggy, well Peggy is still confused by her recent transportation to modern day from the 40s. Talk inevitably turns to the men in their lives…
Betty:   I don't know Jane, it's just so confusing. It's not about him constantly changing into the Hulk – I've made my peace with that – but one minute Bruce is Australian and going all arty, the next he is an intense American and now, well now he is the guy who danced in his underpants in Eternal Sunshine of the Spotless Mind…
Jane:  I understand your problem, but at least your man is around, I hardly get to see Thor since he has trouble getting to earth and all. At least I have my research to keep me going, I guess.
Pepper: (Turns from her paperwork and chimes in) Maybe you should be grateful he's not around so much Jane, sometimes all I feel I do is clean up Tony's mess, admittedly his gadgets do a lot of damage, but not as much as his wisecracking mouth does … (her words trail off, a mixture of mild annoyance and wistful affection).
Peggy: (Slightly frustrated by their conversation) Ladies we need not rely on men. We are strong, confident women, we should take everything in our stride. (She stops as she sees Pepper rolling her eyes.) What?
Pepper:  Just not sure I want to hear that rousing speech again. I'm all for strong women Peggs but don't pretend you don t go weak at the knees when ole Captain America, ahem, lets down his shield.
Peggy: (Ignoring these comments) I just think that rather than sitting around waiting for the men, we should be out there fighting ourselves.
Betty:  I thought that's why Black Widow was recruited, to fill the female fighting quota?
Pepper: I thought she was just hired to parade round in a skin tight outfit.
Betty:  Do I detect a hint of jealousy?
An air of uncomfortable silence prevails.
Jane:  Well if anyone decides what we should do, it should be Betty; I mean she is head WAG after all.
Pepper:  Whoa, whoa head WAG?
Jane: Yeah I mean Betty has had to endure three incarnations of The Hulk, and one of them was Edward Norton (whispers) I hear he's difficult.
Pepper:  Interesting argument however I am Executive Assistant to Stark Industries, a position of great responsibility, I'm sure you'd agree?
Peggy: (Slightly under her breath) More like Glorified Secretary .
Pepper:  You know Betty is no stranger to reincarnation herself, I seem to remember she looked a lot more like Jennifer Connolly the first time around .
Betty: (Now clearly riled) Careful Pepper, no one is immune from the casting chop, just ask Terence Howard.
The girls all let out a collective 'ouch'
Peggy:  Well I have been kicking enemy bottom since the 40s so clearly I am the head WAG, whatever this term means .
The rumbling from outside in the streets gets closer but the women are distracted in a chaotic argument. Finally reaching breaking point, Jane shouts.
  Jane: Ladies, ladies the fight is out there, not in here. The girls all stop their argument.
Peggy:  You're right Jane, we should be joining forces, sticking together and showing the world that we are tough women who can fight – we're not just here for decoration .
The girls all agree and joining together, head towards the battle, as they leave the coffee shop.
  Betty: (Turns to Jane) Besides, one of us has to get into peril before the closing credits.