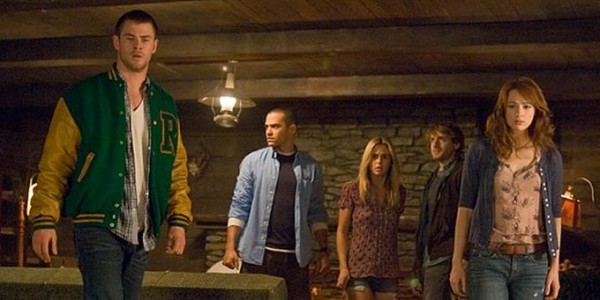 The horror genre has become so obsessed in recent years with redundant remakes of superior originals and the endless splatterings of torture porn, it's no wonder it has become such a frowned upon form of entertainment. We've been holding out for a hero for so long and now two come along at once. The collective brainpower of Joss Whedon (helmer of Marvel's Avengers Assemble) and debutant director Drew Goddard have helped conceive The Cabin In The Woods. Title: generic. Trailer: generic. Finished product: Get ready to be torn from your comfort zone!
The premise at first glance, lives up to the audience's expectations. The always deliberate assembling of teenage stereotypes get set for a weekend away for fun and frolics. We are treated to the alpha male jock Curt in the form of Chris 'Thor' Hemsworth and the superficial and sexy dumb blonde Jules (Anna Hutchinson) juxtaposed with the all-knowing but slightly naive virgin Dana (Kristen Connolly). Completing the pack are bong loving outcast Marty (Fran Kranz) and softly spoken geek Holden (Jesse Williams).
Predictable aerial shots of vehicles driving through woodlands and an uncomfortable run in with a local later, they reach their idyllic destination. Basic horror beats ensue, escalating in refreshing and intricate fashion thanks to a subplot bubbling underneath the surface.
With the surprises being such a substantial segment of the film, I refuse to tread any further. The Cabin In The Woods is the prime example of a trip to the cinema where the less you know, the more satisfying the outcome.
Goddard and Whedon set the peculiar tone early on and their ambition to completely shake up the genre knows no bounds, as they continue to up the ante with intriguing revelations and developments. Certain elements will still come off as familiar but entertaining to horror veterans, the self-aware tongue in cheek humour and of course the sharp creepy jolts rising you from your seat. But they are achieved through a script that defies convention, being unusually intellectual, witty and unique for such fare.
By the film's finale, it reaches such audacious levels that viewers may feel a little lost and confused in the melee transpiring on screen. Gimmicky though it may eventually unravel to be, The Cabin In The Woods proves to be a rare beast. An affectionate condensing of the history of horror that almost wills you on to be disillusioned at its moments of familiarity.
Its tag as a 'game changer' may be a slight overstatement, but as a pure thrill ride?? Most fitting.