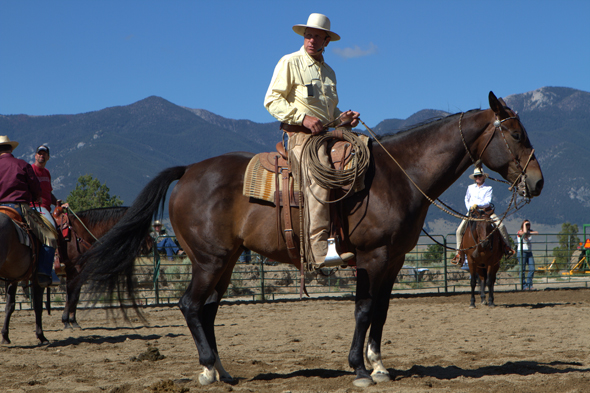 Buck is a documentary feature by first time film maker Cindy Meehl. Though Meehl is prominent in the American fashion world, after attending horse clinic with horse whisperer or 'horse gentler' Buck Brannaman she was so impressed by his methods and straightforward cowboy logic, she decided to make a documentary about his life.
Buck's ability to calmly gain the trust of horses and humans alike comes from hard won empathy. Growing up with an extremely violent alcoholic father, Buck and his older brother were 'professional' performers at rodeos and doing national American commercials since Buck was 3 years old. The boys suffered horrendous abuse along with the death of their mother. When the abuse was finally discovered, Buck was taken into foster care and in this new loving environment, the terrified, shy young boy would grow into the kind, calm man who travels for nine months of each year teaching people how to be around horses and horses how to be around people.
Buck was the inspiration behind the book The Horse Whisperer and was an advisor for the Robert Redford film of the same name. As potentially 'Hollywood' as that sounds, Brannaman is extremely low key. Though he does talk about his childhood and how he came to work as he does, at no point does Brannaman sensationalise any part of his story.
The interviews featured in the film are of childhood friends and family and those who have attended his horse clinics. It is they who give an insight into how harrowing Buck's childhood had been and who admire him all the more for going above and beyond his circumstances. Interviews with Buck's foster parents who are still alive make for a particularly heartwarming element to the documentary as do his recollections of how they helped him get beyond the abuse that he had suffered. His wife and youngest daughter are featured in the film to show that Buck has most certainly not repeated the mistakes of his father. Buck's abilities at calming even the most 'naughty' of colts are remarkable but he does not play to the camera. His words of insight slip into the film and into the experience of those attending his clinics and watching the film.
As with all good documentary making, one does not necessarily need to be interested in the subject matter of the piece. Being well-versed or completely ignorant about horsemanship won't matter; anyone would be hard pressed to not be touched by the story and presence of Buck Brannaman. With beautiful cinematophgraphy, pitch perfect editing and an unobtrusive soundtrack, this documentary is one that will stay with you.
Rating 4 Stars